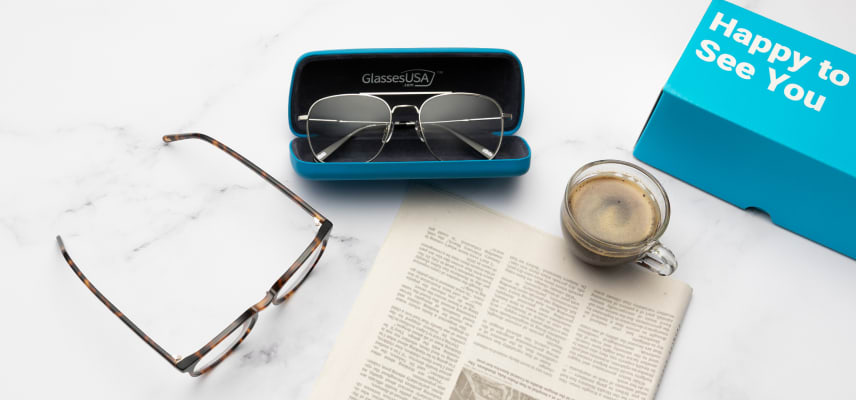 1. Save up to 65% off retail prices.
Leading online stores cut out the middleman so you pay less, even on
multifocals
. From in-store expenses to shipping and production costs, the average markup for frames in brick-and-mortar stores is 250%. Online retailers cut back on these costs by using their own in-house labs, which means you get the same product for a lot less.
"I've ordered a few pairs and have not had any issues. Excellent service and I love that they have different color transition lenses. I'm excited to try them on my new pair coming soon :)"
— EAS
"Absolutely love buying my glasses from Glassesusa. Have bought several and always content. Thank you"
— Fernando Hernandez
"Quality and well made. Never bought readers like this. Worth the extra money for the looks, durability,
lightness, and comfort."
— Carl N
2. Bigger selection of frames.
Online retailers can showcase thousands of frames and brands on a single site, all eligible for
prescription
, non-prescription and
multifocal lenses
. Stores are limited in the amount of frames they can house. Online, there's no end to the options available.
3. No sales commission.
Online sites don't try to push a sale, where store salesmen often work towards a commission. A reported 62% of private practice optometrist's income comes from selling
prescription eyeglasses
and contact lenses.
All the brands you love.
4. Top quality glasses.
Online retailers have access to the same glasses as brick-and-mortar stores. Whether you're shopping for non-prescription frames or
high quality progressive
or
bifocal lenses
, online retailers provide exactly the same materials and brands, including household names like Ray-Ban, Oakley, Tom Ford, and more.
5. You can try-on glasses online.
Using an online Virtual Try-On, you can find your perfect fit from the comfort of your own home. Leading online sites with a try-on tool will give you a better idea of how you'll look in your new
eyeglasses
or
sunglasses
by uploading a selfie.
6. Great customer service.
Stores have closing times. Online retailers are always open. Top online retailers like
GlassesUSA.com
have a customer service team available by chat or phone, 24/7.
7. Risk-Free everything.
100% refund, no questions asked. Leading online retailers provide a simple & secure checkout process, free shipping & returns, and a 100% money-back-guarantee. They provide a safe and secure checkout process.

For all this plus thousands of styles and brands to choose from,

visit

GlassesUSA.com

.
---

Victoria Landsmann
Victoria Landsmann
A GlassesUSA.com writer and fashion enthusiast, studied at London College of Fashion, University of the Arts London. Her degree in Fashion Management has propelled her unique voice and style for the optical world. Her favorite pair of sunglasses is a classic round Ray-Ban.