Leonardo DaVinci once said, "The eyes are the windows of the soul". So true! Even as a child, my mom could always tell how I was feeling, by simply looking at my eyes. There are several factors that can affect the health of our eyes. Exposure to harmful UVA/UVB rays, cold wind, dry heat, allergies and aging can cause several challenges such as poor vision, dry eyes, eye puffiness, wrinkles and crow's feet. Below are a few of my favorite "quick tips" to help address these issues.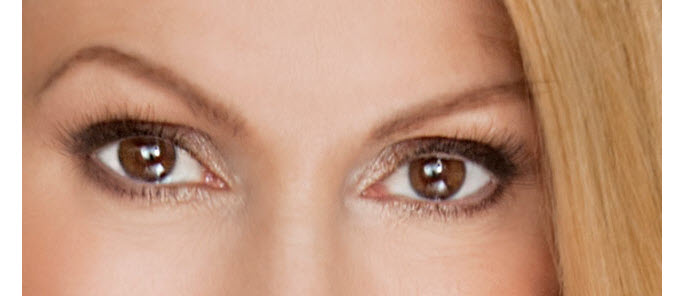 1. Hydrate eyes from the inside out:
As we age, many of us begin to experience dry eyes, allergies and blurry vision. Quite often these issues are due to lack of moisture in the body. The truth is, with age, our natural production of hyaluronic acid slows down dramatically, which affects our eye sight as well as our joints and skin. By taking oral HA supplements, you can help reverse dry eyes, reduce blurry vision, cushion and lubricate the joints, and give your skin a healthy, dewy and more youthful look. Find HA supplements at your local health food store. NOTE: Be sure to check with your health care practitioner before taking supplements. If you need glasses, I've arranged a special discount for you. Simply enter the PROMO code noted on this page for your exclusive discount on prescription eyewear. Choose from styles on this page and throughout the GlassessUSA.com site. Don't forget to enter the promo code at check out.
2. Protect eyes from UVA/UVB rays:
As mentioned earlier, exposure to daily UVA/UVB rays can cause myriad eye issues such as pre-mature wrinkles, crow's feet and age spots. And here's another important "eye opener". Several studies reveal that protecting our eyes from daily UBA/UVB rays can prevent the onset of cataracts. In fact, the study noted that polarized sunglasses have been proven to provide extra UV protection. Check out X-Ray brand on this page, Ray Bans, and others that are polarized throughout the GlassessUSA.com site and be sure to enter the promo code on this page at check out for special savings and a free downloadable copy of my most recent book, "Age-Proof: Beauty Alternatives You Need to Know".
3. Tighten droopy skin around the eyes:
My highly effective 1-step DIY beauty recipe works wonders to instantly tighten under eye bags.
Here's what you do: Whip up one egg white until it form peaks. Apply the whipped egg under each eye. Rest for 20 minutes, keeping eyes closed. Afterward, rinse off the mixture with cool water, followed by your favorite eye cream.
4. Apply eye creams with powerful key ingredients:
When choosing eye cream, look for products that contain powerful, age-defying ingredients. In addition, if you have allergies or skin sensitivities, stick to eye products that are free of parabens or synthetic ingredients (phthalates) to help prevent hormone imbalances and other health issues or allergies. A couple of my favorite eye creams are Eye Perfect and Ultimate Eye Crème. They each offer high amounts of concentrated premium quality age-defying ingredients such as hydrating hyaluronic acid, peptides that help brighten skin and smooth lines and crow's feet, as well as a bunch of skin repairing and nourishing antioxidants. Find the eye reams noted above at a deep discount prices at Hollywoodbeautysecrets.comHollywoodBeautySecrets.com Mention GlassesUSA in the comments box on your order form and you'll be entered to win a pair of sunglasses.
5. Quick makeup tip for a brighter eyes:
For a more open-eyed look, apply beige or white eye liner along the inside rim of each eye. This also makes the whites of the eyes appear even whiter and banishes ruddiness associated with allergies.
You can shop Eye Perfect and Ultimate Eye Creme at Louisa's Hollywoodbeautysecrets.com. Also, visit Louisa's Facebook page, Youtube Channel and her popular Twitter page!
Read More