The safest, fastest, best way to shop for glasses these days is online. You will save hundreds of dollars shopping for quality glasses online while not compromising on quality and service. Here are a few good reasons why.
About 96 Million people wear glasses around the world. That's a whole lot of potential dollar for a whole lot of plastic. If you wear glasses, you must know the intensive expenses involved in measuring for, and then attaining, a pair.
With a pair of glasses usually running at $200 at a brick and mortar store or your doctor's office, and can easily reach $800 or more - it's difficult to afford multiple pairs let alone a single pair. Add to that the limited style options, and it's hard to enjoy glasses as the fashion accessory they've lately become. It almost seems impossible to shop for glasses on your own terms…
Except it isn't -- not when you shop online. It is easier than ever to shop for glasses with accurate fit and incredible style, choose out of thousands of frame options and designers, consult stylists, and save bundles of money doing it-- all in an easy and safe web environment.

Online shopping is becoming the new way to buy glasses as seen on CNN. Here's why:
REASON #1
SAVE UP TO 70% PRESCRIPTION GLASSES COMPARED TO
BRICK-AND-MORTAR STORES
Leading online glasses retailers now offer you the same exact frames, lenses and treatment you receive at a brick and mortar store, at up to 70% less the cost. How?

In general, online retailers cut out the middleman so all the markups you pay for in an offline store are simply saved.
Some online retailers have an in-house laboratory, where the glasses are made according to your specific prescription, saving hundreds in resources.
Online stores don't pay retail rent, so you don't have to pay for it, either.

Leading online glasses retailers match and exceed the quality, service and variety you can find at an offline store, at literally hundreds of dollars less, so you CAN save on quality glasses that fit.




Shopping for glasses online
saves you up to 70% off retail prices!
REASON #2
ONLINE RETAILERS OFFER QUALITY PRODUCT WITH OUTSTANDING SERVICE
The process of online shopping for glasses is more convenient and profound than ever. The most appreciated online retailers offer unbelievable services online that you will make your shopping experience fun and satisfying, rather than tiresome:
The variety found in leading online glasses stores is unmatched by brick and mortar stores. Being online means you may have over 1500 frames to choose from on a single website, from classic styles, to top designer brands, so you can find your perfect style.
Consumers should keep in mind that quality of product may vary. Frames offered at about $6 should raise your suspicion, or at the very least - you should not expect to get a top quality pair of frames. Use your common sense and online tools like google and BizRate Store Ratings to compare online stores, and rely on positive customer reviews.
You can actually try the glasses on on the site easily, with a virtual mirror application allowing you to see how the glasses look on you before you purchase. Some sites allow you to consult a virtual stylist and try on different looks before you decide.
The top online retailers have realized the important of customer service as demonstrated by leading e-commerce companies such as Zappos. The have a team of customer service representatives, available by chat or by phone, to help you with any problem you encounter before, during, or after your purchase.
Glasses ship within days thanks to in-house laboratories, so you usually end up receiving your glasses faster than you would at your local store. In many cases shipping is even free.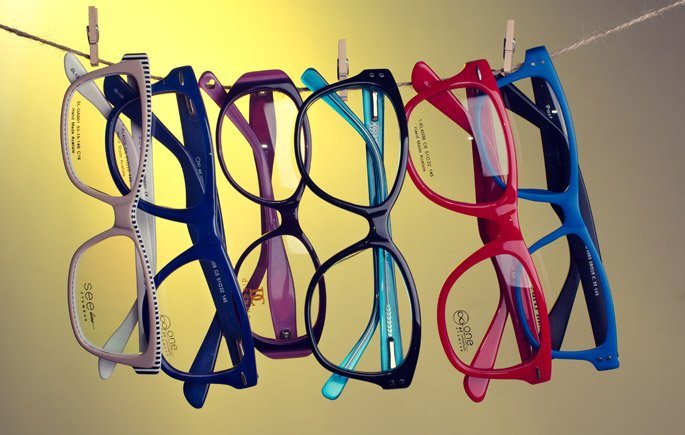 Online glasses retailers is a fashion lover's dream come true.
REASON #3
SHOPPING FOR GLASSES ONLINE IS SAFE & SECURE
These days, at the right websites shopping is absolutely safe and risk-free. The leading online stores know today, that consumers have come to expect, for example - a safe and secure checkout process, 365 day warranty, a lowest price guarantee, and free returns -- not to mention fast shipping. Here are some more reasons why shopping for glasses online is safe:
New and advanced methods of matching your perfect prescription, such as searching according to existing glasses measurements, mean that shopping for glasses online can guarantee a perfect fit. Simply insert your Rx and the glasses will be made according to your exact needs.
Quality online glasses retailers offer high quality lenses and coatings required for even the highest of prescriptions, so even more complicated Rx will be available to you at much lower costs. Leading sites also feature Multifocal lenses, prescription sunglasses and light-adjusting lenses (Transitions).
Leading online retailers who trust their own quality have amazing warranty policy: If your Rx changes, your glasses don't fit exactly right, there is any damage to the glasses, or you're simply unpleased, with an added insurance you can simply send back your glasses up to a year from purchase and receive a new pair -- no questions asked.

Leading online retailers offer a high quality product with a risk-free shopping experience.
The safest, fastest, best way to shop for glasses these days in online. Your perfect pair of glasses is a click away!