Picture this: you're sitting at the eye doctor, he's throwing words around that you just don't understand, gives you a piece of paper that may as well be Finnish, and you want to buy your glasses elsewhere...
What to do now?
Have you ever been in this situation? We hear all the time that this is happening to honest, hard-working people all over America! Well there are some key things for you to know about your
eyeglasses
that may help you...
There are a few different ways your prescription may be written out. Here are some examples: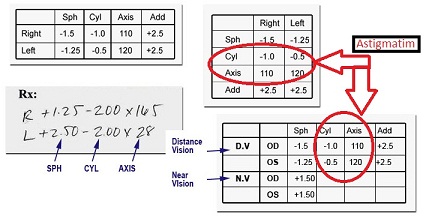 The SPH on your prescription stands for "Sphere". This number should be thought of as your main vision correction value. Specifically, the number determines that optical power of the lens in diopters; the higher the value, the more the lens bends light - meaning the closer magnification the lens will give. Generally speaking, you can always remember that positive numbers mean that you need some sort of a magnification: for near vision needs.
The CYL (or "Cylinder") and Axis go together to correct an
astigmatism
. You will not see an
eyeglasses prescription
with an Axis amount without seeing the CYL as well; they always go together. Like the SPH value, the CYL also determines the optical power of the lens; however it should be looked at more like additional tweak to your eyesight. An astigmatism causes a skewed blurring of vision. The main difference between the correction of an SPH value and a CYL (and Axis) correction is that with the SPH you can turn the lenses around and it will never change the way in which the lenses are augmenting; however a CYL correction has angled power (based on the degree within the Axis).
The ADD lets you know your near vision needs. This value can literally be added to the SPH to create reading glasses - or the reading portion of progressive eyeglasses. As magnifications are known by positive values, the ADD amount will likely always come in positive integers.
It's important to know the essentials of your prescription details; this way you have the freedom to order wherever you should choose - even
online eyeglasses
. If you have anymore questions about reading your prescription, or understanding exactly where your vision fails, please feel free to check out our helpful FAQ section!