Since vision care is just about the highest on our list of priorities, we wanted you to be aware of Healthy Vision Month May! The National Eye Institute - a vision care branch off of the U.S. Department of Health and Human Services has established that the month of May is now "Healthy Vision Month" in hopes to inform the public of the immense importance of our eyes, and maintaining healthy vision throughout our lives!!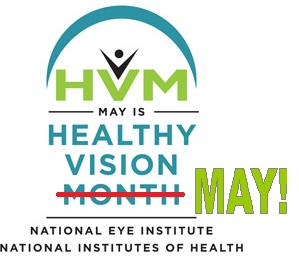 Whether or not you wear
prescription prescription eyeglasses
for actual vision-correction, ensuring you are always up-to-date on the latest optical information is one of the first essential tools to guaranteeing the well-being of your vision.
The primary need for maintaining your eye health is to always see your eye doctor on a consistent and consecutive manner. Getting checked with the comprehensive dilated eye exam can not only fit you for your proper
eyeglasses
, but also assist in ensuring that any possible vision problems will be caught in the early stages! Most eye diseases do not give off early warning signs, and because of this, you shouldn't wait to see your doctor
only
when you experience discomfort. Instead, you should check your eyes on a consistent basis of every one to two years, and help protect yourself from vision loss!!
Eye protection is also an essential precaution. For instance, even if you don't need any vision-correction, buying a pair of plano computer
glasses
can alleviate a lot of the damage that most of us experience at our all-day-on-the-computer jobs, or when watching TV. Other protective eye products include sports goggles and safety glasses. Keeping your eyes safe at all times will certainly help ensure your future eye health!
Education and information is the leading cause of saving the world's vision! So the next time you're at your eye doctor, whether it be getting your latest
eyeglasses prescription
, or just for your annual check-up, don't be afraid to ask!!
Feel free to learn more through the additional information offered by the National Eye Institute!