Why hello Summer!
It's officially Sunglasses Season! Nothing says
summer
like a day off of work, fun in the sun, a barbeque by the pool and amazing fireworks! (Well, nothing says
Fourth of July
, at least!)
What could be better than getting a great deal on regular
eyeglasses
during the summer? Getting a great deal on fantastic sunglasses!!!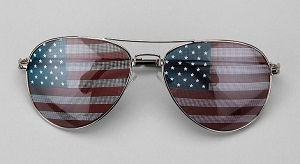 Right now, it's hot and sunny almost everyday - and you
must
protect yourself from the suns harmful rays! I you haven't already purchased some new sunnies, check out our
Sunglasses
section or feel free to add the Color Tint option to any of our
glasses frames
!!
The rule about never having too many
glasses
carries over to shades as well, and with prices like these you could buy out the whole stock! We've got aviators, wayfarers, plastic and metal - any selection you desire!
Don't let your July 4th - and beyond - sunny celebrations be a dud, head to the shop for
online eyeglasses
and sunglasses!!
Happy Independence Day!!!!