Should you wear your specs on your big day? That has been the question swirling about in your head lately, hmm? Well, this may help you gather your thoughts together on the never-ending question of: "Can I wear glasses on my wedding day, or not?"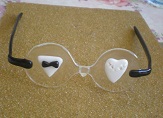 Ultimately, you want to be as comfortable as possible. So that should be the number one factor in your decision making. If your glasses are a big part of your life (i.e. you wear them just about everyday), it may just be the best option for you to get out there and be true to yourself. Wear your beloved
glasses frames
! Also, if you don't have the option to use another form of vision-correction (like contacts) for the big day, you wont be comfortable having blurred vision for the whole celebration; you want to see everyone who came with you to celebrate. If you have other means of vision for the day, it's certainly an option. But just remember: you'll. want. comfort.
Eyeglasses
also have a stigma - specifically for big events, such as weddings - that they will negatively affect photos - as well as your whole persona. However, this really isn't correct. If you choose to go with your frames on the big day, be sure to let your photographer know and they should be able to accommodate any possible glare on the lenses. Furthermore, you could opt for the Anti-Reflection coating on your glasses lenses, this should also fix the problem!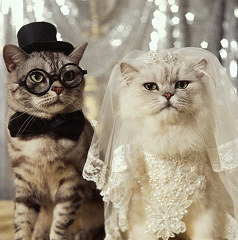 If you choose to go without your frames for your wedding day, it might be helpful to keep them nearby as a
just-in-case
. Through all of the excitement of the big day, you may need something that brings you back to your comfort zone. It's important to have a back-up option for everything wedding-related anyway! Plus, as most
prescription glasses
wearers know, contact lenses tend to dry out your eyes, so it would be good to have them handy for the quick relief of the dryness you are experiencing.